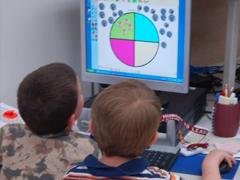 Link: Assisting Teachers through Technology
In Virginia Beach City Public Schools, a new position (Extended Day Kindergarten) was created to provide 15 students who had low scores on a kindergarten entrance exam with an extra half day of instruction. Virginia Beach then hired half-day teachers to work with students and provided these teachers the flexibility of a no-curriculum classroom. This allowed EDK teachers to cater lessons and instructional activities to meet the needs of the learners.
After meeting with the students' morning kindergarten teacher, I discovered areas where the students needed intervention and created lessons and activities based on their needs. I then compiled a list of many activities, resources, links, print-outs, literacy centers, etc. that I used during my two years as an EDK teacher.
This website is intended for other EDK teachers to use with the many books, math manipulatives, and other materials that came with the EDK program. Please note that this is purely a compilation of resources (being as Google Drive did not exist in 2009 when I made this site).