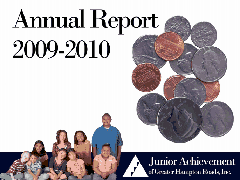 Link: Junior Achievement Annual Report 2009-2010
When I was the Education Director for Junior Achievement of Greater Hampton Roads, I created the Annual Report each year to notify volunteers, Board of Directors, and sponsors of the events, annual budget, and student activities that were held during the fiscal year.
In this report, I presented all information using Adobe Photoshop. The .psd files were then compiled together in Adobe Bridge.